Flame Retardant Upholstery Coating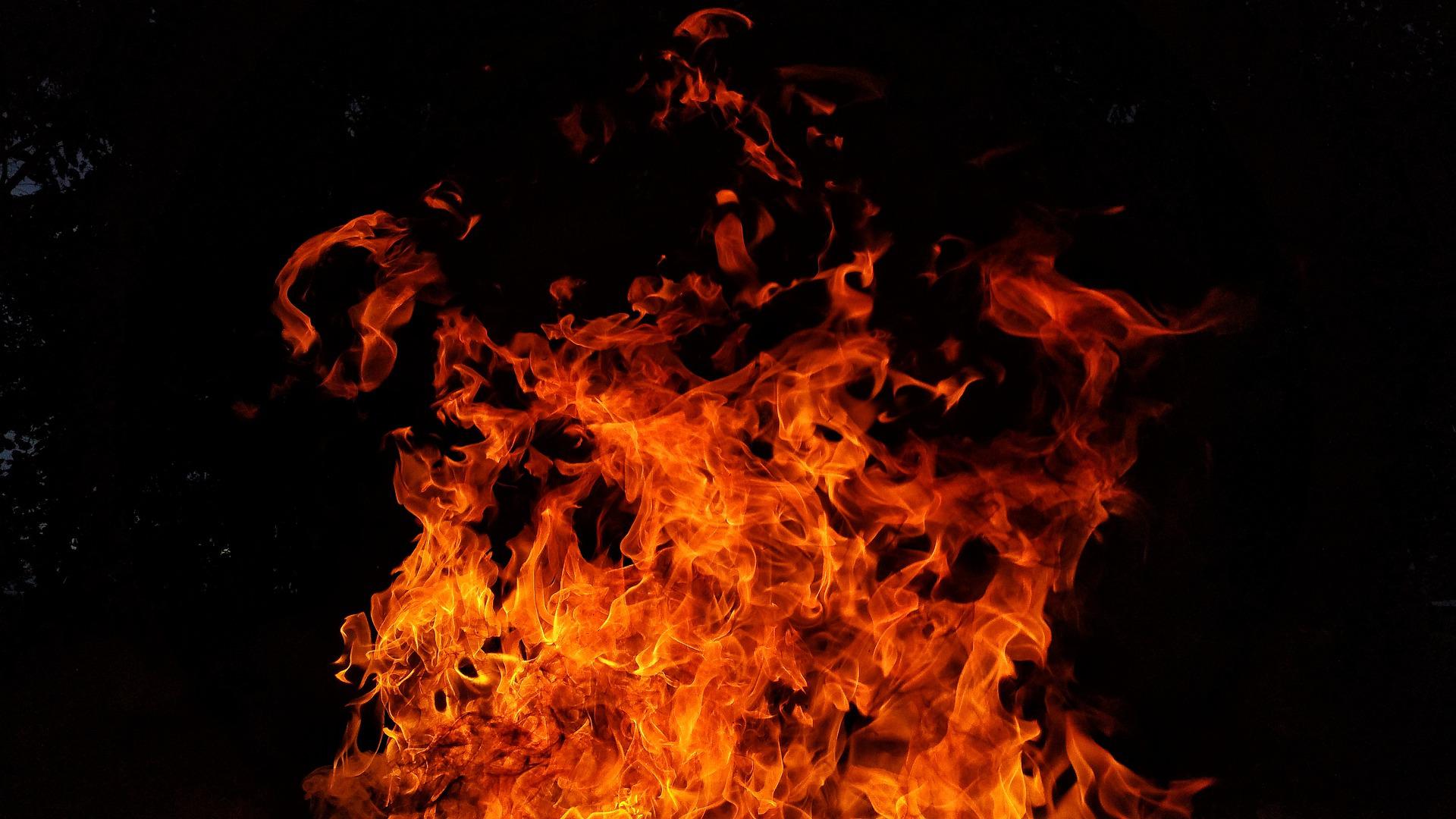 The Furniture and Furnishings (Fire) (Safety) Regulations 1988 (amended 1989, 1993, 2010) subsequently referred to as FFR and also known as The UK FR Regulations, were introduced in 1988 because of a horrific fire in a large furniture store in Manchester in the UK. These regulations gave the UK by far the highest fire safety regulations in the home of anywhere in the world, resulting in a dramatic drop in fatalities. How dramatic? You can see the details on the chart below: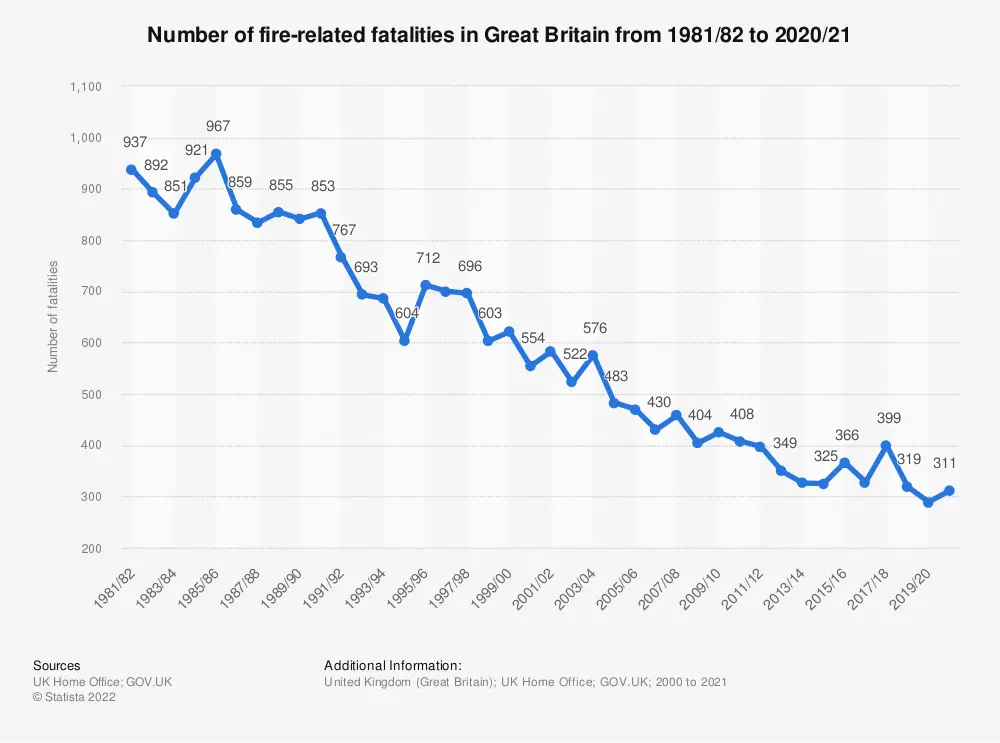 The FFR regulations addressed the use of highly flammable polyurethane foams and filling materials along with flammable cover fabrics.
Flame Retardant or Fire Retardant coatings for Cover fabrics Upholstery fabrics or Sofa fabrics is at the core of Nanoflam's technologies and expertise.
See attached Guide from FIRA for more detailed requirements on FFR!
Link to full UK regulations
Why have the FFR regulations turned out to be so effective in saving lives?
The main priority of Flame Retardants fabrics is to significantly slow down the propagation of a fire and hence increase escape time. Most of the victims of fires do not die of the flames, but from toxic smoke inhalation, its Carbon monoxide that's kills. The longer you can suppress this toxic gas formation the better the chance of survival.
Increasing escape time
How exactly do Flame retardants work? They reduce the risk of ignition and fire spread of textile materials which results in more available escape time for occupants.
By using Flame Retardant coatings, time to flashover can increase even up to 3 times - from 5 minutes to 15 minutes! This is a colossal difference that decides about life or death in the situation of a life's threat.
This is perfectly illustrated by the graphic below: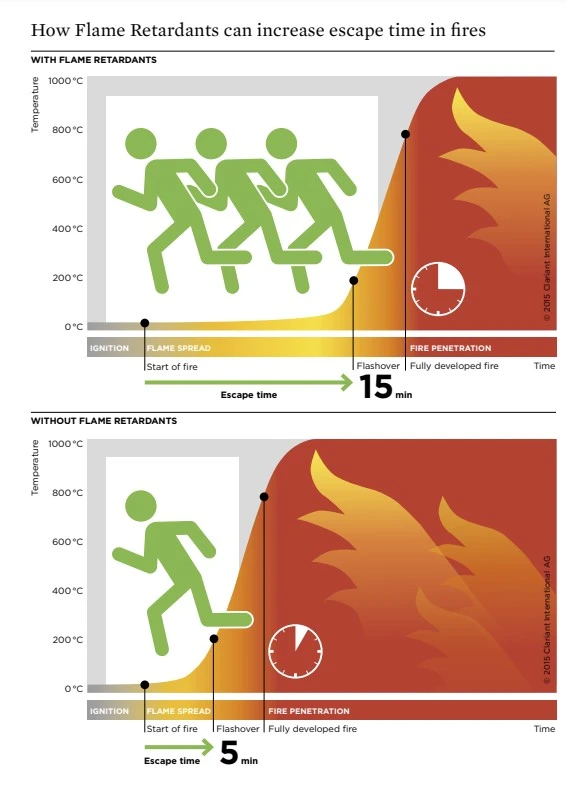 It may seem that 5 minutes is plenty of time to get out of the building...However, remember that the escape time includes the time to discover the fire, alert other people, decide to call the fire brigade, take their own actions to extinguish or choose to evacuate the building. In addition, when people's lives are in danger, they often become paralyzed with fear, which makes it very difficult for them to make a rational decision. This means that 5 minutes is not enough to leave the endangered building without panic.
Fire-retardant materials have effectively solved this problem.
What technologies does Nanoflam use to create Fire Retardants?
Nanoflam's technical team has been at the forefront of development for coating compounds for Upholstery to meet the FFR since the mid 1980's.
We have a unique understanding of the relationship between Fabric, Application and Chemical.
We can supply products for:
Paste Coating, also known as Knife coating or Direct coating.
Foam coating, both Stable foam and non-stable foam.
Padding, also known as Dipping, Impregnation or Foulard application.
Our products are based on several different chemistries depending on specific customer requirements:
• Traditional Bromine/Antimony systems that are suitable for a wide range of fabric types.
◦ Our Bromine products are all PBDE free and contain no Deca-BDE.
◦ We have Bromine containing systems that are Oeko-tex 100 approved and registered.
• Halogen Free, also referred to as non-Halogen compounds or environmentally Friendly FR compounds.
◦ In our Non-Halogen range, we have
▪ Phosphorous, or phosphate-based products
▪ Phosphorous/Nitrogen system
▪ Inorganic based products
▪ Organophosphate
▪ Blends of above
◦ Our Halogen free range are all fully Oeko-tex 100 compliant and are currently in the process of being approved for:-
▪ ZDHC
▪ Oeko-tex passport
• Hybrids that contain Halogen and non halogen are also available
Our products can meet the requirements of the following standards
Textile Use
Standard
Test Method
Ignition Source
Domestic
Furniture and Furnishings (fire)(safety) regulations 1988
BS5852 Part 1:1979

Source 0- Cigarette

Source 1- Butane flame

(Match test)

Contract
BS7176

BS5852 Part 2:2010

BS/EN 1021/1

BS/EN 1021/2

Source 5 – Wooden Crib

(Crib 5)

Source 0- Cigarette

Source 1- Butane flame 15s (match test)

Domestic/Contract
BS5651
Water soak procedure
When it comes to FR upholstery coatings Nanoflam's expertise is 2nd to non. For more information on how match your fabrics to the best FR compound type, along with industry leading technical service please contact us directly via office@nanoflam.com or use or use the contact form below!